Customer Reviews
06/28/2021
ANDY W.

United States
Head jar
I love them I bought all three sizes It has a great seal
09/11/2020
William M.

United States
Frankenstein Porcelain Container
love this item. So fun and great quality.
05/09/2020
Jen B.

United States
Arrived broken but they sent
Arrived broken but they sent out 2 new ones right away. So awesome!!!!! I am obsessed with these. They're a great size and look great on my comfortable. Just buy one!!!! You won't regret it
05/03/2020
Carmen E.

United States
Amazing products
The website was super user friendly and easy to navigate. As for the Frank container, it is the best! Looks are so deceiving on this one and it appears smaller than it is. It can actually hold what they claim and a bit more depending on size of nugs. I have gotten numerous compliments on the jar because pictures don't seem to do it proper justice. It looks amazing in person. I really like these jars so much that I went ahead and bought 6 additional (different jars), so yes I would absolutely recommend these to anyone even just for collecting purposes. Looking forward to collecting your jars and supporting a local (small, but growing fast, it seems) business.
12/07/2019
Saphia

United States
IMPRESSIVE
I had such a wonderful experience with this company. My Frankenstein was packaged so well and it shipped so fast. 11/10! Don't wait to get your own!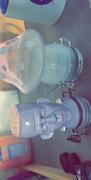 11/10! We are glad you had such a good experience. Thanks so much for your kind words and for supporting our company!